*****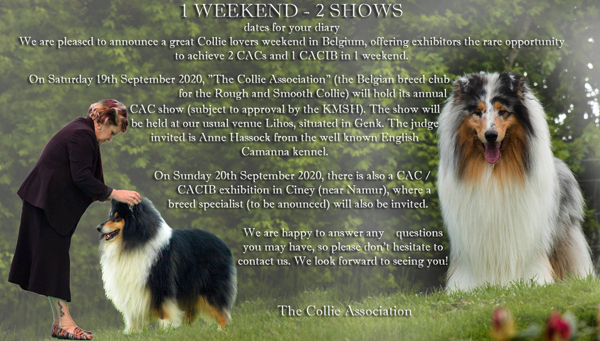 *****
1 WEEKEND - 2 SHOWS - datums om te noteren in uw agenda!

We zijn verheugd om een geweldig Collie-liefhebbersweekend in België aan te
kondigen en exposanten de unieke kans te bieden om 2 CAC's en 1 CACIB te
behalen in 1 weekend met telkens een rasspecialist als keurmeester.

Op zaterdag 19 september 2020 zal "The Collie Association" (de Belgische
rasvereniging voor de Rough and Smooth Collie) haar jaarlijkse CAC-show houden
(onder voorbehoud van goedkeuring door de KMSH).

De show vindt plaats op onze gebruikelijke locatie Lihos, gelegen in Genk. De gevraagde
keurmeester is Anne Hassock van de bekende Engelse Camanna kennel.

Op zondag 20 september 2020 is er de CAC / CACIB-tentoonstelling in
Ciney (nabij Namen), waarvoor ook een rasspecialist (nog aan te duiden)
wordt uitgenodigd.

We beantwoorden graag al uw vragen, dus aarzel niet om contact met ons op te
nemen. We kijken er naar uit u te zien!

The Collie Association
*****
1 WEEK-END - 2 EXPOSITIONS: dates pour votre agenda

Nous sommes heureux d'annoncer un grand week-end pour les amoureux des colley en Belgique,
offrant aux exposants l'occasion unique de réaliser 2 CAC et 1CACIB en 1 week-end sous des juges specialiste.

Le samedi 19 septembre 2020, "The Collie Association" (le club de race belge pour le Colley à poils long et court)
tiendra son exposition annuelle avec CAC (sous réserve de l'approbation du SRSH).

L'exposition aura lieu à notre lieu habituel, Lihos, situé à Genk. Le juge invité est Anne Hassock du célèbre élevage anglais Camanna.
Le dimanche 20 septembre 2020, il y aura également une exposition CAC / CACIB à Ciney (près de Namur),
où un spécialiste de la race (à préciser) sera également invité.

Nous serons heureux de répondre à vos questions. N'hésitez donc pas à nous contacter.
Nous avons hâte de vous voir!
The Collie Association
******
1 WEEKEND - 2 SHOWS – dates for your diary

We are pleased to announce a great Collie lovers weekend in Belgium,
offering exhibitors the rare opportunity to achieve 2 CACs and 1 CACIB in 1 weekend.

On Saturday 19th September 2020, "The Collie Association" (the Belgian breed club for
the Rough and Smooth Collie) will hold its annual CAC show (subject to approval by the KMSH).

The show will be held at our usual venue Lihos, situated in Genk.
The judge invited is Anne Hassock from the well known English Camanna kennel.

On Sunday 20th September 2020, there is also a CAC / CACIB
exhibition in Ciney (near Namur), where a breed specialist (to be announced) will also be invited.

We are happy to answer any questions you may have, so please don't hesitate to contact us.
We look forward to seeing you!
The Collie Association
*****
1 WOCHENENDE - 2 SHOWS: Termine die sie sich bitte vormerken !

Wir freuen uns, ein großartiges Wochenende für Collie-Liebhaber in Belgien
ankündigen zu können, das Ausstellern die einmalige Gelegenheit bietet, an
einem Wochenende 2 CACs und 1 CACIB unter Spezialzuchtrichter zu erzielen.

Am Samstag, den 19. September 2020, veranstaltet "The Collie Association"
(der belgische Zuchtverein für den Rough and Smooth Collie) seine jährliche
CAC-Show (vorbehaltlich der Genehmigung durch die KMSH).
Die Show findet an unserem gewohnten Veranstaltungsort Lihos in Genk statt. Die Richterin wird
Anne Hassock aus dem bekannten englischen Camanna-Zwinger sein.

Am Sonntag, den 20. September 2020 findet in Ciney (bei Namur) eine CAC /
CACIB-Ausstellung statt, zu der auch ein Spezialzuchtrichter (wird noch
bekannt gegeben) eingeladen wird.

Gerne beantworten wir Ihre Fragen. Bitte zögern Sie nicht, uns zu
kontaktieren. Wir freuen uns darauf, Euch zu sehen!

The Collie Association
*****
1 FIN DE SEMANA - 2 SHOWS (Fechas para tu calendario)
Nos complace anunciar un gran fin de semana para los amantes del Collie en Bélgica, que ofrece a los expositores la oportunidad especial de conseguir 2 CAC y 1 CACIB en 1 fin de semana.
El sábado 19 de septiembre de 2020 "The Collie Association" (El Collie Club de Bélgica) llevará a cabo su show anual (sujeto a la aprobación de KMSH) El Show se realizará en nuestro lugar habitual Lihos, situado en Genk. La jueza invitada será Anne Hassok, criadora inglesa reconocida con nombre de afijo Camanna.
El domingo 20 de septiembre de 2020, también habrá una exposición CAC/CACIB en Ciney (Cerca de Namur) donde también se invitará un juez especialista (por confirmar)
Estaremos encantados de responder cualquier pregunta, así que no dudéis en contactarnos. Esperamos veros!
The Collie Association
*****
1 WEEKEND – 2 ESPOSIZIONII - date per il vostro diario
Siamo lieti di annunciare un grande fine settimana per gli amanti del Collie , in Belgio, offrendo agli espositori la rara opportunità di ottenere 2 CAC e 1 CACIB in 1 fine settimana con giudici specialisti.
Sabato 19 settembre 2020, "The Collie Association" (il club di razza belga per il Rough e Smooth Collie) terrà la sua esposizione annuale con CAC (soggetto all'approvazione del KMSH), come al solito posto di Lihos a Genk. Il giudice scrlto è Anne Hassock del famoso allevamento inglese Camanna.
Domenica 20 settembre 2020, c'è anche una mostra CAC / CACIB a Ciney (vicino a Namur), dove verrà chiamato a giudicare uno specialista di razza (vi faremo sapere). Siamo lieti di rispondere a qualsiasi domanda , quindi non esitare a contattarci. Non vediamo l'ora di vedervi!
The Collie Association
*****