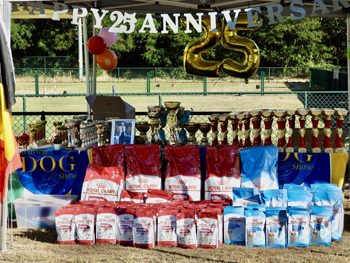 EN
We are delighted so many have decided to celebrate together with us our 25th jubilee show
. We have a record entry of 25 Smooth Collies (judge Christine Collins, UK) and 74 Rough Collies (judge Marina McLaughlin, UK) making a total of 99 entries!
A heartfelt thank you to all who entered and thank you to the judges for having accepted our invitation.
Together we will make it a great day enjoying the dogs and the company of other collie lovers at the lovely outside venue of Lihos (who we thank for hosting us again)
FR
Nous sommes ravis que tant de personnes aient décidé de célébrer avec nous notre 25ème exposition jubilaire
. Nous avons une participation record de 25 Smooth Collies (juge Christine Collins, UK) et 74 Rough Collies (juge Marina McLaughlin, UK), ce qui fait un total de 99 participations !
Un grand merci à tous ceux qui se sont inscrits et merci aux juges d'avoir accepté notre invitation.
Ensemble, nous ferons de cette journée un grand moment de plaisir pour les chiens et la compagnie d'autres amoureux des Collies dans le cadre magnifique de Lihos (que nous remercions de nous accueillir à nouveau).
NL
We zijn erg blij dat zovelen besloten hebben om samen met ons onze 25e jubileumshow te vieren
. We hebben een recordaantal van 25 Smooth Collies (keurmeester Christine Collins, UK) en 74 Rough Collies (keurmeester Marina McLaughlin, UK), dus in totaal 99 inschrijvingen!
Hartelijk dank aan iedereen die heeft meegedaan en dank aan de keurmeesters voor het accepteren van onze uitnodiging.
Samen zullen we er een geweldige dag van maken, waarbij we zullen genieten van de honden en het gezelschap van andere collieliefhebbers op de mooie buitenlocatie van Lihos (die we bedanken voor hun gastvrijheid).
----------------------------------------------------------------------------
THE COLLIE ASSOCIATION asbl-vzw URCSH 1101 KKUSH
Dog Show met/avec/with 2 CAC
24/06/2023

RESULTS:
SMOOTH COLLIE
Mâles - Reuen - Males - Rüden
Classe Jeune - Jeugdklas - Youth class - Jugendklasse (2)
1.Vitali van Renvickshof LOSH 01351752, né/geb. 21-05-2022
(Bent Beck's Forbeis x BE.JCh.Romy van Renvickshof)
Chip nr. 967000010506091
Prod/fokker : M. Calander & S. Goetstouwers - Propr/eig.: M. Korte
EX1
Classe intermédiaire -Tussenklas - Intermediate Class - Zwischenklasse (1)
2. JW'22, BJS'22, NLJch.DtsJCh.IntJch.Hol.Cup W'22
Legend of Camelot's Zupersonic NHSB 3.262.955, né/geb. 10-11-2021
(Legend of Camelot'sVanilla King x Legend of Camelot's Night in Paris)
Chip nr. 276096800039645
Prod/fokker: H. Ischner - Propr/eig.: E. Sanders
EX1, CAC, BOS
Classe ouverte - Openklas - Open class - Offene Klasse (1)
3. Mighty Meadows Bentley VDH/ZBrH COK 2719, né/geb. 08-06-2021
(Ch.Sky Fall x Amali vom Langenhorster Wald)
Chip nr. 27609880234293
Prod/fokker & propr/eig.: K. Panhoff
EX1

Classe champion - Kampioensklas - Champion class - Championklasse (3)
4. Fr.Ch.Oliver Twist de la Fleur d'Ecosse LOF 362/66 , né/geb. 16-03-2018
(Gettro Gibbs du Clos des Duchesses x Lara Croft du Clos des Duchesses)
Chip nr. 250268732147666
Prod/fokker: S. & E. Descamps - Propr/eig.: A. Vanbeselaere
EX1, R.CAC

5. Ch.Blamorder Lover Boy CMKU/CK/1620, né/geb. 29-03-2019
(Blamorder Bring Him Home x Blamorder Ice Cream Dream)
Chip nr. 953010003296496
Prod/fokker : A. Lusty - Propr/eig.: A. Rückschlossova
EX2

6. NL&BE.JCh.NL&BE.Ch.Chicago Bila Kaifa CMKU/CK/990/15, né/geb. 01-07-2015
(Mabinogion King Arthur Pendagron x Etiopie Bila Kalifa)
Chip nr. 953010000454186
Prod/fokker: D. Ungerova - Prop/eig.: M. Calander & S. Goetstouwers
VG3
Femelles - Teven - Bitches - Hündinnen
Minor Puppy (1)
7. Turella's Ginger VDH/ZBrH COK 3099, née/geb. 12-02-2023
(Blue Sapphire V.Shaka's Royal Kraal x Turella's Zimtstern)
Chip nr. 276094180169546
Prod/fokker : C. Schmidt - Propr/eig.: J.J. Smeijers
VP1, Best Minor Puppy
Classe jeune - jeugdklas – Youth class – Jugendklasse (6)
8. Viva La Nora Angel Silvestre LOSH 01358702, née/geb. 12-09-2022
(Foxearth Formula One x Ch.Indigo Aura Agree to Disagree)
Chip nr. 967000010497700
Prod/fokker: I. van de Ven - Propr/eig.: E. Susanne
EX4

9. V-Djay Angel Silvestre LOSH 01358699, née/geb. 12-09-2022
(Foxearth Formula One x Ch.Indigo Aura Agree To Disagree)
Chip nr. 967000010497867
Prod/fokker: I. van de Ven - Propr/eig.: I.P. Vonsee
EX3

10.Very Special Girl Angel Silvestre LOSH 013558698, née/geb. 12-09-2022
(Foxearth Formula One x Ch.Indigo Aura Agree to Disagree)
Chip nr. 967000010497947
Prod/fokker: I. van de Ven - Propr/eig.: L. Delheille
EX

11. BE.JCh.Vyrrca van Renvickhof LOSH 01351758 , née/geb. 21-05-2022
(Bent Beck's Forbeis x BE.JCh.Romy van Renvickshof)
Chip nr. 967000010505931
Prod/fokker & prop/eig.: M. Calander & S. Goetstouwers
EX2

12. Hol Cup JW'23, Hol Cup W'23, Eur.JS'23, ClubJS'23
Mabinogion Egwene NHSB 3.269.231, née/geb. 02-04-2022
(Tucconia's Gandalf Kind of Magic x Mabinogion het Vijfde Element)
Chip nr. 528140000865511
Prod/fokker: J.P Berkelmans - V/D Rest - Propr/eig.: E. Sanders
EX1, Best Junior, BIS JUNIOR

13. Valenitayini van Renvickshof LOSH 01346670, née/geb. 14-02-2022
(Trucconia's Eddard King in the Nord x Sarafina van Renvickshof)
Chip nr. 967000010464973
Prod/fokker: M. Calander & S. Goetstouwers - Prop/eig.: M. Calander & S. Goetstouwers
Co-prop/mede-eig : I. Celen
EX
Classe intermédiaire -Tussenklas - Intermediate Class - Zwischenklasse (3)
14. Sisu Van Linda's Hoeve NHSB 3.265.185, née/geb. 21-02-2022
(Kalalassie's Just Came To Find Us x Turella's Let It Be Love)
Chip nr. 528140000854462
Prod/fokker : J.J. Smeijers -Propr/eig.: B. & A. Krautscheid
EX2

15. Curtney Love from Black Riding Hood NHSB 3.262.706, née/geb. 27-11-2021
(Alph from Black Riding Hood x Bloody Bloody Mary from the Sun of China)
Chip nr. 276098108382317
Prod/fokker : C. Bohne - Propr/eig.: L. van der Kieft
EX1, CAC, BOB, R.BIS

16. Mask Snowdrop Van Linda's Hoeve NHSB 3.242.789, née/geb. 08-07-2021
(Kalalassie's Just Came To Find Us x Moonshine Star Van Linda's Hoeve)
Chip nr. 528140000829879
Prod/fokker & propr/eig.: H.H.M.G. Smeijers
EX3
Classe Ouverte - Openklas – Open class – Offene Klasse (3)
17. Rita Mitsouko du Domaine de Docmaël LOF 487/117, née/geb. 30-11-2020
(Straightline's Starlight Dream x Osiris du Domaine de Docmaël)
Chip nr. 250269590367915
Prod/fokker: M. Mulot - Propr/eig.: A. Vanbeselaere
EX1, R.CAC

18. Aurora Suri Anyaru CMKU/CK/1619, née/geb.04-11-201
(Elegan Leneli x Mighty's Spring Meadow Olya Orla)
Chip nr. 953010004506256
Prod/fokker & propr/eig.: A. Rückschlossova
EX2

19. Sarafina van Renvickshof LOSH 01290812 , née/geb. 10-05-2019
(Ch.Chicago Bila Kaifa x Ch.Mabinogion Ysera)
Chip nr. 972273000565659
Prod/fokker: M. Calander & S. Goetstouwers - Prop/eig.: M. Calander & S. Goetstouwers
Co-prop/mede-eig : I. Celen
EX3
Classe champion - kampioensklas - Champion class - Champions Klasse (2)
20. BE.Ch.Indigo Aura Agree to Disagree LOSH 9200587, née/geb. 09-01-2021
(Clingstone's Conspiracy Theory x Diamondfox Absolute Cotton Candy)
Chip nr. 953010004792071
Prod/fokker : J. Lelenié - Propr/eig.: I. van de Ven
EX1

21. NL&BE.JCh.NL&BE.Ch.Mabinogion Ysera NHSB 3087019, née/geb. 10-06-2017
(Lord Robin Vom Den Eisvogel x Mabinogion Elements Of Fire)
Chip nr. 528140000693547
Prod/fokker: J.P Berkelmans - VD/Rest - Prop/eig.: M. Calander & S. Goetstouwers
EX2
Classe éleveur - Fokkersklas - Breeders class - Zuchtklasse (3)
22. Olympia Bila Kaifa CMKU/CK/1837, née/geb.29-03-2021
(Forest Canto In-Situ x Loviisa Bila Kaifa)
Chip nr. 900203000041396
Prod/fokker & propr/eig.: D. Ungerova
EX2

23. Moonshine Star Van Linda's Hoeve NHSB 3.163.101, née/geb. 17-06-2019
(Ch.Chicago Bila Kaifa x Ch.Light Em Up Van Linda's Hoeve)
Chip nr. 528140000761383
Prod/fokker & propr/eig.: J.J. Smeijers
EX3

24. BE.JCh.Romy van Renvickshof LOSH 01279571, née/geb. 15-10-2018
(Kalalassie's Forty-six-golden Hugs x Born To Be Zuki of Dawn Harbour)
Chip nr. 972273000566800
Prod/fokker & prop/eig.: M. Calander & S. Goetstouwers
EX1
Classe vétéran - Veteranenklas - Veteran class - Veteranen Klasse (1)
25. NL&BE.JCh.NLCh.BE.VCh.Neera van Renvickshof LOSH 01138236,
née/geb. 23-01-2014
(Will Witfoot from Hobbit's Home x Vicky vom Ihlpol)
Chip nr. 972273000217072
Prod/fokker & prop/eig.: M. Calander & S. Goetstouwers
EX1, Best Veteran, BIS Veteran
ROUGH COLLIE
Juge/keurmeester/judge/Richter: Marina McLaughlin (UK)
Mâles - Reuen - Dogs - Rüden
Classe puppy - Puppyklas - Puppy class - Jüngstenklasse (4)
26.Venom The Dream of Cold River LOE en cours/in aanvraag, né/geb. 20-1-2023
(Riverside Song Play The Game x Riverside Song Key to me Heart)
Chip nr. 941000027252559
Prod/fokker &- propr/eig.: J.I Sanz Ruiz
VP3

27. Eagles Hotel California van het Melkmeisje VDH/ZBrH Col 78832,
né/geb. 17-12-2022
(Monsolana Absolute Bliss at Emiber x Ch.Heyley the Beauty of Emiber)
Chip nr. 276095611268422
Prod/fokker & propr/eig.: D. Schmidt
VP2

28. Ted Lapidus of Lowlands Green Valley LOF 126524, né/geb. 14-11-2022
(Pure Wish of Lowlands Green Valley x Opium Black of Lowlands Green Valley)
Chip nr. 250269591225983
Prod/fokker & propr/eig.: L. Thevenin
VP1, Best Puppy, BIS Puppy

29. Ingvar vom Rhododenronwäldchen VDH/ZBrH Col 78799, né/geb. 18-10-2022
(Ch.Nash of Lowlands Green Valley x Valencia vom Rhododendronwäldechen)
Chip nr. 276096800025049
Prod/fokker: E. Scheil - Propr/eig.: W. van den Akker
Absent
Classe jeune - jeugdklas – Youth class – Jugendklasse (6)
30. Le Petit Prince vom Haus Rosenpracht VDH-DCC 14669, né/geb. 22-09-2022
(Ch.You're a Twinkeling Diamond vom Haus Rosenpracht x Ben Avon Rhythm of Your
Heart) - Chip nr. 276093400836796
Prod/fokker: P. Scheuer - Propr/eig.: H. Kornbrust & P. Scheuer
EX4

31. Very Nice Blue Boy of Meadows LOSH 01355466, né/geb. 08-07-2022
(Ch.One and Only de la Pierre d'Elisa x Tender Love Blue des Gentils Malabars)
Chip nr. 944116000924944
Prod/fokker & propr/eig.: L. Delheille
EX3

32. Starlenga Just AsWell LOSH 9203911, né/geb. 25-05-2022 reu jeugd
(Starlenga Curious George x Beldones Just For Fun At Starlenga)
Chip nr. 981020047289803
Prod/fokker: M.&G.&L.Walker - Propr/eig.: Ch. Terryn
EX1
33. Lu.De.NL.JCh.Very Special Angel Silvestre LOSH 01351859, né/geb. 05-04-2022
(Beldones Toucher Du Bois x Ch.True Dream Angel Solvestre)
Chip nr. 967000010494962
Prod/fokker: I. van de Ven - Propr/eig.: M. Lockyer
EX2

34. Vando Levi Angel Silvestre LOSH 01351858, né/geb. 05-04-2022
(Beldones Toucher Du Bois x Ch.True Dream Angel Silvestre)
Chip nr. 967000010494954
Prod/fokker: I. van de Ven - Propr/eig.: J. Cosemans & N. Vandebeek
VG

35. Voreal Saoko Angel Silvestre LOE 2640947, né/geb. 02-01-2022
(Paulara No Where Man x Riverside Song Aura for Angel Silvestre)
Chip nr. 967000010490968
Prod/fokker: I. van de Ven - Propr/eig.: J.I. Sanz Ruiz
Absent

Classe intermédiare - Tussenklas – Intermediate class - Zwischenklasse (3)
36. NL.Jch BDSJS Abba The Winner Takes it All van het Melkmeisje
VDH/ZBrH Col 78288, né/geb. 22-10-2021
(Ch.Beldones Tom Wood x Ch.Heyley the Beauty of Emiber)
Chip nr. 276095610926716
Prod/fokker & propr/eig.: D. Schmidt
EX1

37. Riverside Song Oh Boy LOF 126220/17405, né/geb. 10-07-2021
(Out of the Blues du Clos de Sea-Wind x Riverside Song Georgia On My Mind)
Chip nr. 642098100272830
Prod/fokker: O. Cruscov - Propr/eig.: S. Compagnon
EX2

38. BE.JCh.Vinnie Silvestre LOSH 01347003, né/geb. 02-02-2022
(Paulara No Where Man x Riverside Song Aura For Angel Silvestre)
Chip nr. 967000010491182
Prod/fokker: I. van de Ven - Propr/eig.: D. Van Aerschot
EX3
Classe ouverte - Openklas – Open class – Offene Klasse (9)
39. Top Less Amethyste UKU. 0521646, né/geb. 05-04-2021
(Old Golden Gates Totilas Dark x Top Less Aquarelle)
Chip nr. 900215000980198
Prod/fokker : N. Shmatko - Propr/eig.: D. Jasiuleviciute
EX3

40. Saparo Sweet Sunshine NHSB 3.233.544, né/geb. 14-04-2021
(Pow Wow du Clos de Sea-Wind x Camanna Caught Glancing)
Chip nr. 528140000829153
Prod/fokker: P. Scholten - Propr/eig.: R. Maas
VG

41. I'm Still Standing vom Haus Rosenpracht VDH-DCC 13955, né/geb. 12-02-2021
(Ch.Top Secret vom Haus Rosenpracht x Ben Avon Rhythm of Your Heart)
Chip nr. 276093400836903
Prod/fokker: P. Scheuer - Propr/eig.: W. Jung
G
42. Thorin Angel Silvestre LOSH 01313137, né/geb. 18-07-2020
(Pow Wow du Clos de Sea-Wind x Roxy Angel Silvestre)
Chip nr. 967000010308694
Prod/fokker: I. van de Ven - Propr/eig.: S. Van Linden
EX4

43.Timo Angel Silvestre LOSH 01311795, né/geb. 18-06-2020
(Pow Wow du Clos de Sea-Wind x Riverside Dream Angel Silvestre)
Chip nr. 967000010305096
Prod/fokker: I. van de Ven - Propr/eig.: N. Bruynseraede
EX1, CAC, BOB

44. Number One Blu di Cambiano VDH/ZBrH COL 78148, né/geb. 16-01-2020
(Ch.Skabona Extra Player x Ch.One Incredible Blu di Cambiano)
Chip nr. 380260101663587
Prod/fokker: M.T. Garabelli - Propr/eig.: V. Svetlecic
VG

45. Flash Gordon vom Haus Rosenpracht NHSB 3.210.234, né/geb. 28-09-2019
(Mon Trésor du Bois des Amazones x No Angel vom Haus Rosenpracht)
Chip nr. 276093400836659
Prod/fokker: P. Scheuer - Propr/eig.: F. Hagemans
VG

46. Simba Of Ardennes Heart's LOSH 01297647, né/geb. 22-09-2019
(Camembert Fellow Of Eternity x Eloisee Fellow of Eternity)
Chip nr.900113000709677
Prod/fokker & propr/eig.: B. Renaux & M-Ch. Jourdan
-

47. Pow Wow du Clos de Sea-Wind LOF 1 COL.PL. 123778/0, né/geb. 07-04-2019
(Ni Vu Ni Connu du Bois des Amazones x Ch.In Blue Love du Clos de Sea-Wind)
Chip nr. 250268732532441
Prod/fokker: G. Mervant - Propr/eig.: I. van de Ven
EX2
Classe champion - Kampioensklas - Champion class – Championklasse (6)
48. Dt.Ch.Little Britain of Dirty Boots VDH/ZBrH COL 76939, né/geb. 26-02-2019
(Up and Down vom Obersten-Holz x Xspecially For You vom Haus Rosenpracht)
Chip nr. 276095610582964
Prod/fokker: M. Wirth - Propr/eig.: H. Kornbrust
EX

49. Int.D.Ch.Bsg.OBsg.GW Eagle Coast Can't Fight This Feeling
VDH/ZBrH COL 76594, né/geb. 28-03-2018
(Ch.Jazz Prestige of Lowlands Green Valley x Ch.Rosegarden Yamaica Fever)
Chip nr. 276098800025407
Prod/fokker & propr/eig.: R. Tott
EX4

50. Fr.JCh.Fr.Ch.Dolce Venizia Operation Bataillon LOF 122871/17183,
né/geb. 12-02-2018
(Just For Today of River Tweed x La Dolce Vita du Bois des Amazones)
Chip nr. 250269811453935
Prod/fokker: L. Charlerey - Propr/eig.: B. Furiati
EX3

51. DE.Ch.Int.Ch.Toffilu's Like No Other VDH/ZBrH COL 76291, né/geb. 08-06-2017 re
(Ch.Rydeen I'm a Rough Boy x Ch.Toffilu's The Voice Of My Heart)
Chip nr. 276098106515126
Prod/fokker & propr/eig.: B. Glöckner
EX2
52. NL&BE.JCh.NL&BE.Int.Ch Quiero des Gentils Malabars LOSH 01189111,
né/geb. 17-03-2017
(Ch.Denzel Washington of Moon River x Ours to Love of Meadows)
Chip nr. 967000010077462
Prod/fokker: C. Bertrand-Gerard - Propr/eig.: P. Geraerts
EX

53. Int.Ch.Nyitramenti Vesuvius Volcane MET Coll. 375/16, né/geb. 16-09-2016
(GB.Ch.Chantique Huggy Bear for Tiganlea x Hu.Ch.Nyitramenti Jaffa)
Chip nr. 941000019421605
Prod/fokker & propr/eig.: J. Balazsovits
EX1, R.CAC

Classe éleveur - Fokkersklas - Breeders class - Züchterklasse (1)
54. Peaky Blinders de la Fleur d'Ecosse LOF 123805/17249, né/geb. 29-07-2019
(Ch.Beldones Tom Wood x Mamma Mia de la Fleur d'Ecosse)
Chip nr. 250268732685403
Prod/fokker & propr/eig.: E. & S. Descamps
EX1
Classe vétéran - Veteranenklas - Veteran class - Veteranen Klasse (1)
55. NL.Ch.NL.JCh.NL.VCh.Boulevard of Dreams all my loving NHSB 2.927.450,
né/geb. 07-06-2013 t
(Ch.Riverside Song Big Boss Man x Boulevard of Dreams Golden Sound)
Chip nr. 528140000539178
Prod/fokker : J.M.A de Nijs-Verhoeff - Propr/eig.: C. Kremer
EX1, Best Veteran
FEMELLES – TEVEN
Minor Puppy (3)
56. Gentle Family Amazing Abbey NHSB 3.299.451, née/geb. 09-03-2023
(This is my way Angel Silvestre x Endless Design Dare to Dream)
Chip nr. 528140000888952
Prod/fokker: W. & L. van den Akker - Propr/eig.: W. van den Akker
VP1, Best Minor Puppy, BIS Minor Puppy

57. Millubie Paint The World LOE en cours/in aanvraag, née/geb. 25-02-2023
(Millubie Yazzman x Millubie Winter Wish)
Chip nr. 208274000606949
Prod/fokker: L. Milic - Propr/eig.: J.I Sanz Ruiz
VP3

58. Sailor Pluto of Emibere ROI123-44734, née/geb. 08-01-2023
(Monsolana Absolute Bliss at Emiber x Zexwood Love of my Life)
Chip nr. 382060140339684
Prod/fokker : R. Stoppini - Propr/eig.: D. Schmidt
VP2
Classe puppy - Puppyklas - Puppy class - Jüngstenklasse (7)
59. Wakanda Forever The Dream of Cold River LOE en cours/in aanvraag,
née/geb. 20-01-2023
(Riverside Song Play The Game x Riverside Song Key to me Heart)
Chip nr. 941000027252555
Prod/fokker & propr/eig.: J.I Sanz Ruiz
VP2

60. Eagles Witchy Woman van het Melkmeisje VDH/ZBrH Col 78838,
née/geb. 17-12-2022
(Monsolana Absolute Bliss at Emiber x Ch.Heyley the Beauty of Emiber)
Chip nr. 276095611268519
Prod/fokker & propr/eig.: D. Schmidt
VP

61. Valentine Gucci Angel Silvestre LOSH 01363723, née/geb. 09-12-2022
(Tiganlea True Hero x Riverside Song Aura for Angel Silvestre)
Chip nr. 945000002596735
Prod/fokker & propr/eig.: I. van de Ven
VP

62. Vicky Of Ardennes Heart's LOSH 01360798, née/geb. 18-10-2022
(Pow Wow du clos de Sea-Wind x Uyla Angel Silvestre)
Chip nr. 900223000144125
Prod/fokker: B. Renaux & M-Ch. Jourdan - Prop/eig.: M-Ch. Jourdan
VP1

63. The Lady in Red de la Fleur d'Ecosse LOF 126422, née/geb. 13-10-2022
(Orlando Bloom du Chemin des Randonnées x Penny Lane de la Fleur d'Ecosse)
Chip nr. 250268780363804
Prod/fokker & propr/eig.: E. & S. Descamps
VP4
64. Millubie October Princess JR 75318 Sko, née/geb. 10-10-2022
(Millubie Yazzman x Millubie Brigitte Bardot)
Chip nr. 900182002190523
Prod/fokker: L. Milic - Propr/eig.: I. van de Ven
VP3

65. Very Cute Nona Angel Silvestre LOSH 01363724, née/geb. 12-09-2022
(Tiganlea True Hero x Riverside Song Aura for Angel Silvestre)
Chip nr. 945000002596740
Prod/fokker: I. van de Ven - Propr/eig.: J. Van Deursen
P
Classe Jeune - Jeugdklas - Youth class - Jugendklasse (11)
66. Malouine's Born to be a Blue Star NHSB 3.287.148, née/geb. 21-09-2022
(Endless Design Obsession in Black x Malouine's Serenade in Blue)
Chip nr. 528140000860757
Prod/fokker: A. Blommers-Jansen - Propr/eig.: W. van den Akker
Absent

67. Malouine's Memory in Black NHSB 3.287.149, née/geb. 21-09-2022
(Endless Design Obsession in Black x Malouine's Serenade in Blue)
Chip nr. 528140000860880
Prod/fokker : A. Blommers-Jansen - Propr/eig.: C. Kremer
VG

68. Little Hollywood This is What Dreams are Made LOF 126326, née/geb. 22-07-2022
(Ch.Born to be Your Quite Famous at Lynmead x Ch.Petite Robe Noir of Lowlands Green
Valley) - Chip nr. 250269590838156
Prod/fokker & propr/eig.: L. Baena
EX1, Best Junior

69. Int.Lux.JCh.Medley of Flame Bella Bambina VDH/ZBrH COL 78610,
née/geb. 25-05-2022
(Beldones Napoleon x Caronlea Witchy Woman)
Chip nr. 276098108423286
Prod/fokker & propr/eig.: M. Port
EX

70. Toffilu's Q-She Is My Golden View VDH/ZBrH COL 78595, née/geb. 22-05-2022
(JCh.Toffilu's Overwhelming My Senses x Toffilu's Intoxicated By You)
Chip nr. 276098108642240
Prod/fokker & propr/eig.: B. Glöckner
EX3

71. Malouine's From Here to Eternity NHSB 3.272.136, née/geb. 15-04-2022
(Just A Feeling du Clos de Sea-Wind x Abbotsbury Quinty Royal)
Chip nr. 528140000867774
Prod/fokker: A. Blommers-Jansen - Propr/eig.: R. van Dorp
Absent

72. Majohof Next Generation Rapunzel NHSB 3.270.210, née/geb. 06-04-2022
(Fridens Major Tom x Majohof Next Generation Royal Gold)
Chip nr. 5280000881961
Prod/fokker & propr/eig.: L. Jongejan
EX
73. Viva Espana Angel Silvestre LOE 2645966, née/geb. 05-04-2022
(Beldones Toucher du Bois x Ch.True Dream Angel Silvestre)
Chip nr. 967000010494950
Prod/fokker: I. van de Ven - Propr/eig.: J.I.Sanz Ruiz
EX2

74.BeeGees You Win Again van het Melkmeisje VDH/ZBrH Col 78504,
née/geb. 03-04-2022
(Jealous Guy du Domaone de Jean-Vinceanne x Pearly van het Melkmeisje
Chip nr. 276095610926551
Prod/fokker & propr/eig.: D. Schmidt
EX

75. Vita Angel Silvestre LOSH 01347000, née/geb. 09-02-2022
(Paulara No Where Man x Riverside Song Aura for Angel Silvestre)
Chip nr. 967000010490969
Prod/fokker & propr/eig.: I. van de Ven
VG

76. Viva la Vida Kayda Angel Silvestre LOSH 01346561, née/geb. 01-02-2022
(Riverside Song Play The Game x Riverside Dream Angel Silvestre)
Chip nr. 967000010490949
Prod/fokker : I. van de Ven - Propr/eig.: S. Kooper
EX4
Classe intermédiaire -Tussenklas - Intermediate Class - Zwischenklasse (6)
77. Lux.JCh.Abba Cassandra van het Melkmeisje VDH/ZBrH Col 78290
née/geb. 22-10-2021
(Ch.Beldones Tom Wood x Ch.Heyley the Beauty of Emiber)
Chip nr. 276095610926581
Prod/fokker : D. Schmidt - Propr/eig.: P. de Wit
EX

78. Stonehaven Pride Miss March MET.Coll. 1481/22, née/geb. 10-03-2022
(Ch.Stonehaven Pride Hard Rock x Fridens Bugatti)
Chip nr. 941000026712388
Prod/fokker: B. Perensé-Csokona - Propr/eig.: J. Zsinor
EX

79. Ti Amo Blu du Clos de Sea-Wind LOF 126167, née/geb. 03-03-2022
(Ni Vu Ni Connu du Bois des Amazones x One and Only du Clos de Sea-Wind)
Chip nr. 250269591034328
Prod/fokker : G. Mervant - Propr/eig.: Ch. & A. Leson
EX4

80. Trop Mignonne Black de Cathyja LOF 125902/21450, née/geb. 05-02-2022
(O'Brion Dugers des Cigales Lyristes x Odraz Black de Cathyja)
Chip nr. 250269610243675
Prod/fokker: C. & J. Ragueneau - Propr/eig.: E. & S. Descamps
EX3

81. Sea Dreamer's Going in Style NHSB 3.255.618, née/geb. 05-11-2021
(Just My Type of the Lario Lake x Sea Dreamer's Living The Dream)
Chip nr. 528140000847212
Prod/fokker & propr/eig.: B.C. Berghout-Snijder
EX2
82. Rydeen Question 'N Answer VDH/ZBrH COL 78259, née/geb. 12-10-2021
(Ch.Toffilu's Out of Ordinary x Rydeen Make My Day)
Chip nr. 276098108379179
Prod/fokker & propr/eig.: H.-J. Glöckner
EX1. CAC, BOB, BIS

Classe ouverte - Openklas - Open class - Offene Klasse (12)
83. She will be loved of River Tweed LOF125746/21451, née/geb. 01-11-2021
(Ch.Dolce Venizia Operation Bataillon x Paige Matheson du Bois des Amazones)
Chip nr. 250268732788963
Prod/fokker: B. Furiati - Propr/eig.: V. Bernard
EX2

84. Uyla Angel Silvestre LOSH 01331906, née/geb. 26-04-2021
(Just My Type Collies of The Lario Lake x Camanna Chaseadream)
Chip nr. 967000010370224
Prod/fokker: I. van de Ven - Prop/eig.: B. Renaux & M-Ch. Jourdan
EX3

85. Bailey Sensation Dream VDH-DCC 13983, née/geb. 03-02-2021
(Mistral Gagnant du Bos des Amazones x Xensation Dream of Forever Mind)
Chip nr. 276098108308451
Prod/fokker & propr/eig.: M. Frommlet
EX4

86. Riverside Song Joy of Life LOE 2560491, née/geb. 11-10-2020
(Ch.Riverside Song Rock My World x Riverside Song Julia)
Chip nr. 642098100259662
Prod/fokker: O. Cruscov - Propr/eig.: J.I Sanz Ruiz
Absent

87. Black Peppemint Altoya NSHB 3.271.736, née/geb. 04-01-2020
(Rumour Has It Of The Lovely Bears x Jelly Babay du Clos de Sea-windt
Chip nr. 276093400836796
Prod/fokker: A.Szyper - Propr/eig.: Ch. De Vries
EX

88. Tara of Yellow River VDH/ZBrH COL 77202, née/geb. 21-08-2019
(Ch.Fatto di Cronaca Nero di Cambiano x Narima von Crottorf)
Chip nr. 276098007289693
Prod/fokker & propr/eig.: V. Svetlecic
VG

89. Enjoy of My Heart vom Haus Rosenpracht VDH-DCC 13161, née/geb. 18-04-2019
(Do Ripaumia Nelson x Quality Blue Juwel of Forever Mind)
Chip nr. 276093400836668
Prod/fokker: P. Scheuer - Propr/eig.: F. Hagemans
VG

90. Majohof Next Generation Try It Out NHSB 3.153.481, née/geb. 24-03-2019 t
(Ch.Gambell van het Melkmeisje x Fridens Bliss)
Chip nr.528140000755600
Prod/fokker : L. Jongejan - propr/eig.: J.H. van Dijk Van der Wal
EX

91. Rydeen On Broadway VDH/ZBrH COL 76883, née/geb. 04-01-2019
(Fr.Ch.In The Pocket du Bois des Amazones x Germ.Ch.Rydeen Morning has Broken)
Chip nr. 276098106855645
Prod/fokker: H.-J. Glöckner - Propr/eig.: H.-J. & B. Glöckner
Absent
92. Abbotsbury Pretty Young Thing NHSB 3.087.477, née/geb. 13-07-2017
(Ch.Jaybid Simply Heart N' Soul x Malouine's Tapestry Of Dream's)
Chip nr. 528140000690010
Prod/fokker: J. Bertissen - Propr/eig.: L. Jongejan
EX

93. Ladnar Step Aside AU00516203, née/geb. 19-01-2017
(Ladnar Moondust x Ladnar Footsteps)
Chip nr. 958000010738903
Prod/fokker : D.A & S.P Randall - Propr/eig.: D. Jasiuleviciute
VG

94. Int.Hu.Ch.Dragon Gold Quincy Joy METCOLL 306/16, née/geb. 17-04-2016
(Ch.Castle's Queen Armani Style x Ch.Dragon Gold Mirage)
Chip nr. 953010001098821
Prod/fokker & propr/eig.: M. Bardos
EX1
Classe champion - Kampioensklas - Champion class – Championklasse (3)
95. WJW, BE.NL.Lux.Int.Ch.True Dream Angel Silvestre LOSH 01311797,
née/geb. 18-06-2020
(Pow Wow du Clos de Sea-Wind x Riverside Dream Angel Silvestre)
Chip nr. 967000010305106
Prod/fokker & propr/eig.: I. van de Ven
EX1, R.CAC

96. Hu.JCh.Hu.Ch.Dragon Gold Quite A Lady METCOLL 310/16, née/geb. 17-04-2016
(Ch.Castle's Queen Armani Style x Ch.Dragon Gold Mirage)
Chip nr. 953010001098643
Prod/fokker & propr/eig.: M. Bardos
EX2

97. Int.D.Ch.Bsg, GW. Eagle Coast Beginning of my beautiful Sun Time
VDH/ZBrH COL 75363, née/geb. 19-10-2015 teef kamp
(Ch.Chantique Calvin Klein x Ch.Rosegarden Yamaica Fever)
Chip nr. 276098104690189
Prod/fokker & propr/eig.: R. Tott
EX3
Classe éleveur - Fokkersklas - Breeders class - Zuchtklasse (2)
98. Too Much de la Fleur d'Ecosse LOF 125855/21433, née/geb. 09-02-2022
(Peaky Blinders de la Fleur d'Ecosse x Olympea de la Fleur d'Ecosse)
Chip nr. 250268780251016
Prod/fokker & propr/eig.: E. & S. Descamps
EX1

99. Majohof Next Generation Royal Gold NHSB 3.184.047, née/geb. 20-01-2020
(Sea Dreamer's I Did It Again x Abbotsbury Pretty Young Thing)
Chip nr. 528140000781988
Prod/fokker & propr/eig.: L. Jongejan
EX2